Turners the Pie Men.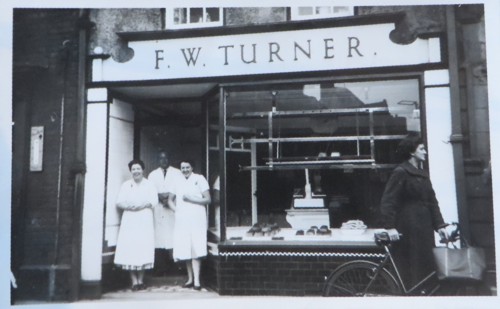 Wem in 2017 has two specialist butchers as well as occasional market stalls. As recently as the early 1940s, it had 7, including 2 specialist pork butchers. Since then shopping habits have changed and now, many people obtain their meat from supermarkets. Despite these changes, many people remember the former traders. Say "Pork pies" to anyone who has lived in Wem for any length of time and memories of the Turner Brothers' products will be recalled affectionately. Turners' shop was at No. 23 High Street, now used by Vintage Antiques. Frank Turner, the founder, began his butchery career when he left school in the early 1920s, working as an apprentice to Dawes and Heath, the pork butchers, opposite St. Peter & St. Paul's church. When Frank Heath left the business and moved to Macclesfield, he invited Frank Turner to join him. However, instead, Frank began his own market stall and ran it for about 10 years, buying pigs and butchering them in his own slaughterhouse at Tilley. Pie and sausage making followed. In around 1934, Frank opened his shop and for 65 years, he and his sons traded there. Most of the early sales were made from a van, with weekly trips to Prees, Stanton, Hadnall and many other villages around Wem. When Bill Turner finished his National Service, soon after the Suez crisis, he and his brother took over the van rounds. The vans chosen were always painted white to reflect the sunlight, as refrigerated vans were unknown in the 1950s. The trade was difficult to predict. The van would stop at the homes of regular customers and other villagers would meet it there. Sometimes, they would drive to an isolated farm only to find that the farmer's wife did not want her usual half pound of sausages. It also had its lighter moments. At Christmas, all the customers had a glass of sherry and a mince pie waiting. Both Bill and his wife, Wyllis, who often went with him, were invited to partake. Bill had the mince pie. Wyllis had the sherry, and commented that by the time that she got home, she didn't know which way up to stand. Wartime sales were affected both by rationing and obtaining the meat. Bill remembers, 'We used to sell lots of sausage- everyone was allowed half a pound of sausage a week. It was off ration. There was a queue at the shop for it- they came in from everywhere. There were two American soldiers who came in regularly from the army camp. One of them, Jimmy Shields, used to help us make the sausage and sang all the time while he was working. One Wednesday the meat hadn't come so we hadn't any meat to make the sausage. Anyway, I told him we hadn't any meat, so he said "leave it with me Mr Turner" and he went back to the camp in the jeep and then back again with 7lb tins. "Open them all up" he said "and put them in that big bath and fill it with water. By next morning it will all be meat." I do wonder what it was but no one worried. Sausage then was basically a lot of rusk. It was Meat, Rusk, Rusk, Rusk, Meat'.
After the war, the sourcing of pigs changed. No longer did Turners slaughter at home, but instead bought the carcases from nearby slaughterhouses. This was partly because they had no equipment. A police amnesty on guns had persuaded Frank to hand in his stun gun. This did cause some problems. Shortly afterwards, a local farmer asked him to slaughter a pig for him, so Frank went to the police to ask for it back, only to be told that it had been destroyed. Frank w as most upset! After that, most pigs were bought as carcases from Bradshaws at Whitchurch. Normally Turners could get through 7 pigs a week. Wyllis Turner would go over to collect them. The staff there would often hide behind the slaughterhouse curtains when they saw Turners' van pull in, as they knew that Wyllis was unwilling to go into the slaughterhouse but she could normally cajole them out. On one occasion after waiting for several minutes while all the staff stayed inside, she started to drive out of the yard, pursued by several worried slaughtermen.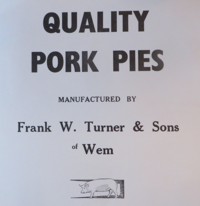 >Apart from van sales, the Turners were selling pies wholesale– Vermeulens at Ellesmere being one of their major customers. As this business grew, they realised that they were making far more from it than from retail van sales, and the van rounds were scrapped. Frank by this time had semi–retired – Bill commenting that he never came to terms with decimalisation and stopped serving in the shop after 1971 when that currency came in! Customers came from near and far. One came down from Liverpool regularly and took a large number of pies back while another worked at Sentinel in Shrewsbury and always took a number to work for resale. Pies of all sizes were made, all hand-raised – at the rate of 1000 a week. Bill reckoned he could raise 40 pie crusts in 10 minutes using the hand blocks shown in the photograph. Trade came from all over Wem and surrounds– with Brewery workers and Isherwood's staff all wanting their pies regularly. On Thursday, market day, people from the surrounding villages came in and bought their weekly pies, both for themselves and as a 'shipping order' for neighbours. At Christmas, all 6 members of staff were working flat–out to make small pies, large pies, long pies (some with egg) and sausages to satisfy the massive demand.
Sadly, the shop closed in 1999 when the brothers retired. Now there are few shops left in Shropshire specialising in hand-raised pies as the commercial producers and supermarkets have taken most of that market. Anyone wanting a 'real' pie will have to look on market stalls or visit the few local butchers who still make their own – though in far smaller quantities.


A memory from 'The WEMIAN' magazine, 12th February 1999.

A Memory of Turners the Butchers


Did you queue on Christmas Eve to buy a pie from Turners Pork Butchers?
Well a lot of you did, sadly though it was to be your last hand raised pie from Alex and Bill. Another family business was closing its door on Wem High Street.
Deservedly they went out in style, with lots of wishes for happy retirements, large footage in local newspapers and Central Television came along to record Alex and Bill on their last day of business. Bill told me that they were truly touched by every ones wishes and they will treasure their cards, cuttings and video forever. Most of you will have read their family history which was printed in the local papers.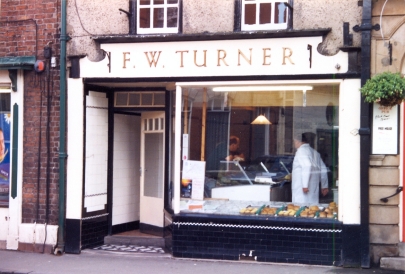 The two brothers had been brought up in the family business and while they played and had hobbies like most lads their age, they also helped out making sausages and doing general errands around the shop from quite an early age. Bill told me that he and Alex have always been good friends.
"I do not think we have had a wrong word between us, we just got on with what ever there was to do. It was the same when we ran the shop together." Said Bill.
" My dad had started a delivery round selling bacon and sausages in the early 20's and then had a stall on the market in Wem. My mum would make the pies. The chance for the shop came in 1936. My dad recognised it was a good shop for a butcher, being north facing, but what was more important was its' position next to the Post Office."
Alex and Bill started to make local deliveries at the beginning of the war when they were about seven and eight years old.
" We each had a string bag which was filled with sausages, pies and bacon. These bags stretched with the weight and we must have looked comical as we set off." Says Bill. " We started down Mill Street and ended up in Tilley, making deliveries to Aunt Vi, Mrs. Jones, Granny Page, Miss Cheshire, Mrs. Tommy, Mrs. Sellers, Miss Delaney, Queenie Eckford, Rutters, Bramleys, Tom Weston, Mrs. Hall Mrs. Ward, and George Furber. When all our deliveries were finished we stayed with granny and played in Tilley."
Up to and during the war the Turner family slaughtered all their own pigs behind the cottage in Tilley. The pigs were bought locally from Halls and Swains or Bradburys and other local farmers. Bill believes that those were the years of good quality pork and they have never been bettered.
"During the war we didn't do without a lot," says Bill, " When the Americans were billeted near Wem, a couple of soldiers who had come from butchering families in the States made themselves known to my dad and would come to help make sausages. Of course they were popular with their gifts of gum and chocolate and Pineapple jam. We kept in touch after they returned to America. A lot of people liked the American soldiers, Leon Obertelli who ran the Fish and Chip shop in New Street and later on the High Street had a lot of scams running with them.. They loved his ginger beer and paid for it with cigarettes, which he could then sell on."
Bill remembers Obertellis Chip Shop with affection. " My brother and I loved his chips. I remember if you ate inside you had to pay a deposit for your knife and fork which you got back when they were returned. " From 1955 to 1958 Bill did his National Service, Alex just missed out on doing his, so went straight into the shop from leaving school. Bill then joined when he finished his service.
"We saw big changes in the meat industry, health regulations changed, butchers could no longer slaughter and farming methods changed which meant pork never seemed to taste like it used to. The High Street changed too, with people buying more in supermarkets and of course when Wems Post Office moved the heart went out of the Town. The Town Hall fire was the last straw for a lot of small businesses and although Alex and I were ready to retire we maybe would have stayed longer if more people shopped on the High Street. We had a lot of happy years in the shop, at our busiest we supplied our hand raised pies to at least fourteen other shops. The hours were long we would start at 4am, but we never minded and took pride in our produce. We had some lovely people work for us over the years, Mrs. Eileen Johnson and Gwen Hesp were very loyal and of course our wives."
Now the two brothers are working hard on their retirement. Alex has his barge and Bill his cars.
Bill and Willis are also continuing to research their family trees which they have gone back as far as the 16th century. Along with keeping fit and swimming they are planning another holiday. In fact when you hear what a full life they lead you wonder how they ever had time to make their famous hand raised pies.
Reproduced from 'The Wemian' magazine, with thanks.

Click to look at or return to No 23, High Street


Go to Home for more historical topics