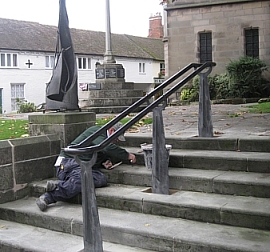 Installation of the handrail.
WEM WAR MEMORIAL:
This major project involves the improvement of the area around the memorial and the repair of the War Memorial.
Phase I of the project, the handrail installation, has been completed. The image to the left shows the rail being installed, the one below, the completed installation. The handrail was designed to complement the lamps sited at the top of the processional steps.
Phase II will involve (a) assessing and repairing the effects of erosion on the monument, (b) replacing the deteriorating reconstituted paving around the monument with stone slabs and (c) erecting railings along the wall surrounding the monument. This phase is now in the planning stage and a public consultation on draft plans has taken place.