LOCAL HISTORY: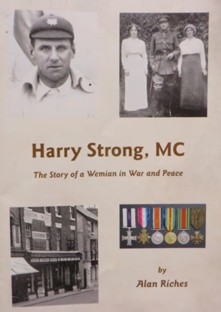 Individual projects, many centred on the business activities in the High Street, are undertaken. Other projects include:
Wem Cinema
Survivors of WWI. The first publication, 'Harry Strong: the Story of a Wemian in War & Peace by Alan Riches' became available in November 2018 and can be purchsed from the society or Wem Book Shop. Price is £3.50.
Midcounties Co-operative Community Fund awarded a grant to Wem Civic Society to support this publication.
The printing and artwork was carried out by local printers, North Shropshire Printers.
The stories of the men listed on Wems's war memorials.
A number of leaflets have been produced including one on the pubs and brewing industry in Wem.
Reminescences are also being collected from Wemians.
Midcounties Co-operative Community Fund also awarded a grant to Wem Civic Society to help in the early days of this project, which was used to purchase an iPAD and training for members. The iPAD will allow the recording of images and video for uploading to this website. Another private donation allowed the purchase of an H2n sound recorder. The latter is a 'future-proofed' device that will allow the society to pass on recordings to Shropshire Archives.
The society has also contributed to the Victoria County History project, in particular, the Wem 'short' due for publication late in 2018. The VCH has recommenced The Victorian County History: Shropshire volume.