Wem War Memorial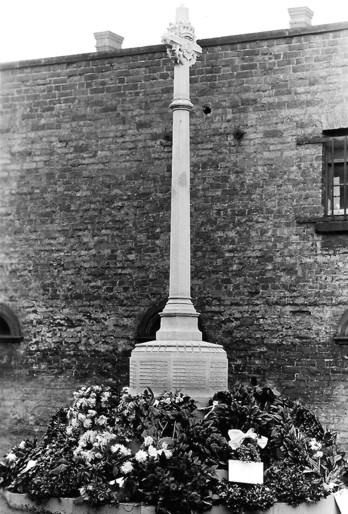 The memorial was dedicated on Sunday 19th December, 1920. It stands 14 feet high, a slender column on an octagonal base standing on a platform of 4 steps. The designers and architects were Messrs Bateman & Bateman (Birmingham) and Messrs Coleman & Godfrey (Tewkesbury).
The Rev. the Hon. A. Parker officiated at the dedication, while the monument was unveiled by Brig-Gen H.C. Cholmondeley supported by Lieut.-Col. N. ff. Eckersley (Chairman of Wem Memorial Committee) and Capt. F.S. Butter, O B E (Chairman of Urban District Council).
The lesson for the service was taken from the Wisdom of Solomon, iii 1-3, "The souls of the righteous are in the hands of God".
There are two points to note about the image:
The structure at the rear of the memorial is the Union Buildings. This was a row of shops, which was demolished in 1943.
The names of the servicemen are engraved in the stone.
Grinshill stone is a soft stone and the names eroded over the years. In 2016, Wem Civic Society commissioned a survey of the monument, which gave the monument the "all clear". The exception was the surface of the stone - the advice given was that no further cleaning should be undertaken since this would lead to further erosion.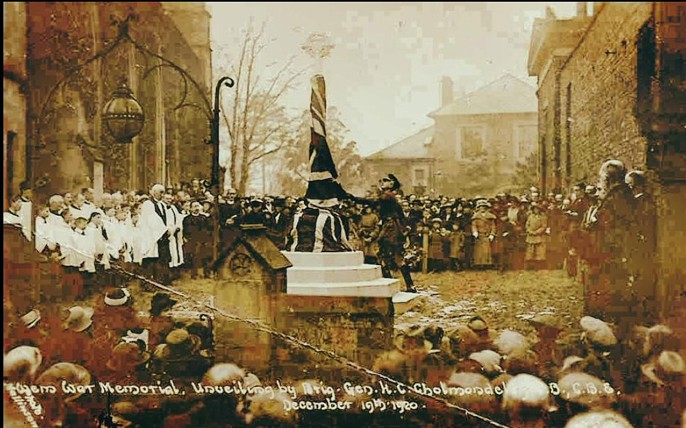 56 names were engraved on the monument. An additional two names were added in 1921, Private W.A. Forster and Lance Corporal I. Jones, and the monument was rededicated.
Further names were added from WWII after the end of that war. In 1972, Welsh slate tablets engraved with the servicemen's names were placed over the eroded engravings. The work was carried out by Jones & Hughes of Oswestry. One name, Ronald Oswell Williams (WWII), was added.
The compilation of names for war memorials was haphazard - it was left to friends and families of the deceased to put names forward. This is the reason that some names appear on more than one monument, Samuel Alvery Cotton appears on both Edstaston and Wem memorials. There are differing degrees of connection of servicemen to memorial sites, Allen Jones' parents were from Clun and Llandyssil; the family living in Ruyton and Ellesmere until his parents (his father being a retired police superintendent) became residents of Wem. John Manuel, the son of a journeyman blacksmith, appears on the Shrewsbury Roll of Honour but not the Wem War Memorial, even though he was born in Wem and lived in Leek Street when he was a child.
Note: Capt. F.S. Butter, OBE (Chairman of Urban District Council) was born in Wem (1886) and lived at 54, High St., Wem. His father was a tailor and draper. By 1911, Francis Samuel was a law student. He enlisted in the Royal Army Service Corps reaching the rank of Temporary Major and saw action in Egypt, including Sollum, at the engagement at Agagir on 26th February 1916. After the war, he qualified as a solicitor and married Gertrude Kynaston.