Henry Kynaston ( Brewer & Landowner) b. 1848
An account of his life by Michael Davies
Henry Kynaston was born at Whixall in Shropshire 1848. He was the son of John & Mary Kynaston, John was a tailor and died in 1881. At the time of his death, Henry was already a brewer. Although he was not a benificary of his fathers will he was made executor to it. This raises the question, was he given his inheritance during the lifetime of his father, thus giving him the capital to start his life of a successful business man.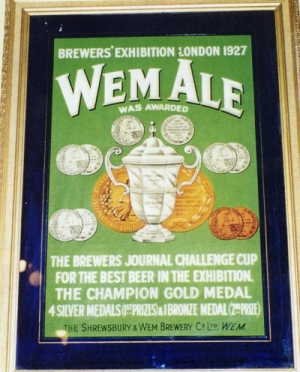 Henry was 33 years of age when his father died and had been married twice. His first marriage was to Hannah Morgan, they married at The Chapel Street, Chapel, Wem. on 21st January 1873 when he was 24 and Hannah was 31. They had two daughters, Mary Elizabeth born 22nd March 1874 and Henrietta born 27th September 1875. At this time Henry & Hannah were living in Noble Street, Wem. Hannah died on the 17th June 1876. On the 27th November 1877 Henry married for the 2nd time. His wife was Elizabeth Morgan, the younger sister of his 1st wife. Their marriage took place in the district of Atcham. At the time of both marriages his profession was that of Brewer & Maltster and he was living in Noble Street. Henry & Elizabeth went on to have a further 10 children - 8 daughters and 2 sons. Henry died on the 22nd November 1921 at his home "The Oaklands", aged 73 years. At that time, he was listed as a Retired Maltster. Elizabeth, his widow died on the 27th November 1925 at her home, The Oaklands, Wem. Aged 75 years. Before he died Henry had his will drawn up. This was a long document and was dated on 11th day of January 1918. Naming his sons Charles Henry Kynaston a Maltster of Wem & James Edward Kynaston a Lieutenant in His Majesty's Army together with his 2 sons in law William Ikin a farmer & Edmund Cecil Climer an accountant of Wem as Executors and Trustees of his estate.
James Edward Kynaston was born 3rd June 1889 in Wem. He joined the army and served during the 1914 - 1918 world war. He was a Leiutenant and acting Captain with the Cheshire Regiment attached to the KSLI. According to the supplement of the London Gazette dated 17th August 1918 ( page 5694) he was awarded the " Croix de Guerre". James retired from the army on the 13th December 1922 after serving in Egypt. He returned to to his home at Wood House Farm. Wem. It is not known whether James ever married.

During his lifetime Henry was not only a Brewer and Maltster he also amassed a number of farms around the Wem area along with house in Summerfield Road, Wem. He also owned a Guest House in Aberystwyth. Reading through his will it would seem that some of his children had received their inheritance during his lifetime as they do not appear as named benificaries. Henrietta, the daughter of his first wife was one of these. Whereas in the will of Elizabeth she is named as "my step-Daughter Henriette Ikin" and given an equal share along with her other children. Charles Henry, who by this time I assume was running the brewery, was given the option of purchasing his father's recently built Malt House at the Old Tan Yard, Noble Street Wem, for the sum of £600 - 00. On the 31st day of January 1898 The Shropshire Brewery Company, Limited. was incorporated under the 1862 to 1893 Company's Act.
I believe that in the 1900s the business acquired a number of Public Houses. I have seen a photograph of Charles Henry outside of The Raven in Tilley, which I think belonged to the brewery.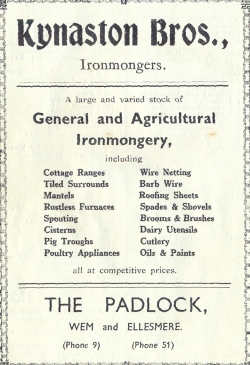 As yet I have not extended my research into the families of either Charles Henry or his brother James Edward Kynaston, although I do know that Henrietta the 2nd daughter by Hannah married William Ikin They had a daughter, Mary, who married Norman Kynaston a descendant of the Kynaston's who were Ironmonger's & Grocers in the High Street, Wem, thus bringing the two families together again for the first time in 200 years.
Between 1820 & 1850 there were 5 Henry Kynaston's listed in Wem. From the 1881 census as well as Henry the Brewer & Maltster there were the following:-
Henry Kynaston his wife Alice, born 1820 Ret. Ironmonger & Grocer.
Henry Kynaston his wife Eleanor born 1850 Grocer & Confectioner.
Henry Kynaston the son of above aged 1 month. born 1881.
Henry Kynaston his wife Hermone born 1848 Butcher.
As you can see this has made tracing the lines of both families a little difficult! However I have now determined both lines started from Richard & Susanna Kynaston. They had two sons Edward born 2nd February 1725. His wife was Martha Jacks. There was another son Richard born 13th October 1731 and who married Mary Price.
Henry the brewer's line is from Edward & Martha, whilst Henry the Ironmonger is from Richard & Mary. The two lines came back together when Norman Kynaston married Henrietta Ikin the daughter of Henry Kynaston & his first wife Hannah in the 1940s Both families can be traced back to Sir Roger Kynaston , born 1433. His wife was Elizabeth the sister of Richard Grey the 3rd Count of Tankerville and the 1st Earl of Powis.
The author
Michael Davies' great grandmother was Mary Kynaston, daughter of John & Mary Kynaston. She married Joseph Forrester of Wem. Michael has spent many years researching the family history and has found that there were two Henry Kynaston's living in Wem at about the same time. One family were farmers and brewers whilst the other was a grocer and ironmonger. His great grandmother's brother was Henry who went on to set up his brewery in Noble Street.