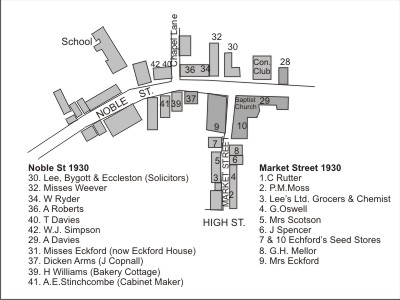 Noble St and Market St. in 1930. The 2 cottages
Nos. 40 and 42 survived the Great Fire of Wem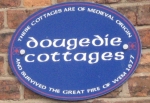 One of the great traditions of Wem is the Sweet Pea Show. For many years it has been run by Val Good and her husband, Jack, and their quiet dedication and hard work in the Sweet Pea Society has helped to put Wem back on the map in the Horticultural World.

One of the fascinations for me has been the old photograph of Henry Eckford that is beautifully reproduced on the Sweet Pea Schedule. This kindly old man with his long beard and spectacles, wearing a hat looks like he has always enjoyed his work and is at peace with himself. So I asked Mr Good was there any one I might be able to have a chat with who might remember Wem when the Eckfords had their business here.Their house now has a sign on it as shown in the photograph. I was then put in touch with Mrs Grindall.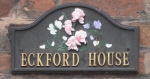 Mrs Grindall has lived all her life in Noble Street, Wem. Her maiden name was Roberts and she was brought up at No 36, just across the road from 'The Hole in the Wall' (also known as the 'Dicken Arms'). The family also had a small farm with a dairy. The fields went back on to Bowens Field and onto what is now the Adams School playing fields. Mrs Grindall's job was to deliver milk. This she did before going to school.She would take the pint and gill tin cans with their lids and handles balancing on the handlebar of her bicycle. She cycled out on the Shawbury Road and in and around the town. She remembers that in early summer the fields at Tilley, the Soulton Road and out by the Cemetery were a sight to behold with masses and masses of sweet peas. The Eckfords employed a lot of seasonal workers and Wem had lots of visitors just to see the Sweet Peas growing.

Across the road from where Mrs Grindall lived, is Market Street where the Eckfords lived, had their seed warehouse and seed shop. Mrs Grindall has memories of the Eckford family being quite gentle and they had maids to help in the house.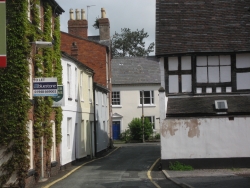 View looking down Market St with
No 30, Noble St. in the background
There were two Eckford sisters, quite elderly, who wore long black skirts and always went about together. The shop where the seeds were sold from had a big round table in the doorway with a hand bell on for customers to ring. Mrs Grindall remembers the big seed bins like corn hoppers and wooden scoops to collect the seeds. There was a large scale and brown paper, along with lots of small brown envelopes. It was airy and very quiet remembers Mrs Grindall, it was here Mrs Grindall made a confession. She said when she was about 10 she and a friend would go around and ring the bell then run away and hide. She remembers it was great fun but must have been very annoying for the family to find an empty shop.

Old man Henry Eckford had started a worldwide business selling sweet pea seeds, but Mrs Grindall said you would never have known it was so busy , it was just like every other small business in Wem at that time. Market Street was busy all the time, she remembers the scissors grinder Mr Hancock and Mrs Scotson ran a busy lodging house.

Mrs Grindall's mother kept a cutting of Mr Eckford from the Wellington Journal, it was part of an article that recalled how Mr Eckford had been one of the first family businesses to sell by mail order in a national newspaper and it was this that put the Eckford Sweet Pea on the world map. Mrs Grindall kept this cutting safe for many years. She then passed it on to two enthusiastic Sweet Pea growers Mr Jones and Mr Pratt, it is the same photo I mentioned at the beginning. So well done Mrs Grindall for keeping that cutting safe all those years.

Mr Grindall then invited me to see his garden and Sweet Peas. He has exhibited for many years, but this year was growing sweet peas to be exhibited in the floral art section.