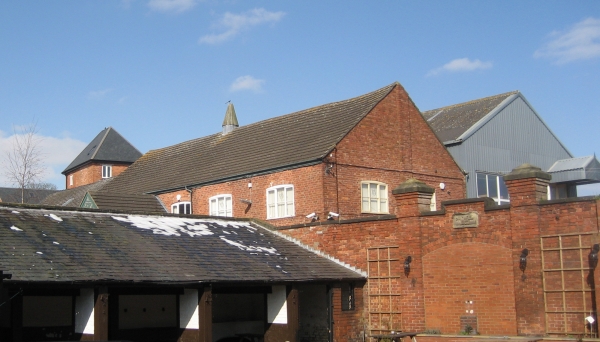 Brewing is part of Wem's heritage, and long before the famous Wem Brewery was founded records show that there was plenty of good ale to be found in Wem. In the 15th century it was reported, "That the good waters of Wem were being turned into good ales by the ales women." Also a verse to be found in "The History of Myddle" by Gough: 'Let slaves admire base things, but my friend still. My cup and can with Wem's fine ale shall fill'

Brewing today is a specialist business, but for many thousands of years it was a cottage industry practised by many. At the beginning of the 19th century Wem had eight maltsters and five coopers, indicating that there was a strong trade in ale. In 1828 according to 'Tibnams Directory of Shropshire' there were fifteen inns and taverns in Wem. By 1840 a Brewer resided in Noble Street and there were eight listed inns and taverns, many of which would have had their own brew house.Even in 1926, a dozen pubs still remained. View of the brewery taken in 2013 across the Castle Hotel car park.

The Wem Brewery which started in its most modern form around 1870 had by 1898 forty public houses in Shrewsbury and Wem. It became known as 'Shrewsbury & Wem Ales Ltd.' establishing Wem as a Brewing town that became known across the country.
In 1927 Wem Ales won The Brewers Journal Challenge Cup and the Champion Gold Medal plus many more medals. In 1952 the Brewery came under the umbrella of Greenall Whitley who bought the Brewery but it continued to be called 'Shrewsbury & Wem Ales Ltd'. The afore mentioned cup and gold medal were also won again in 1985. In 1988 the Brewery in Wem was closed, but the brewer, Jack Hanby stayed!
Jack Hanby
Jack came to Wem as Second Brewer in 1980. "I remember my first visits to Wem and the Brewery, I felt it was full of character and characters and a great place to live." remembers Jack.
"For the first two months my home was in The Castle I had a good baptism of life in Wem and I really grew to love the place and its' people. Bill and Edith Blower who ran The Castle made me feel at home and couldn't have been kinder. Edith often kept my dinner warm because my working hours were so irregular. It was a very busy time getting to grips with a new job and looking for a place to live. I eventually found a home and my family were able to come and join me."
When Jack arrived in 1980 he remembered what it was like. "The Brewery employed over fifty people who were involved in producing draught beer, barrelling it and transporting it far and wide to public houses. We turned out hundreds of barrels a week and the place was a hive of industry with many skilled men working there. I soon became involved in what I had come here to do, oversee the brewing process and to ensure consistency of the beer."

For those of you who have not met Jack Hanby I can tell you this, he is a quiet, sensitive, and dedicated man who is totally committed to his science of brewing. He is highly respected in his profession and he comes with the highest qualifications in his trade. He was brought up in Pembrokeshire, educated in Bristol and gained a degree in Applied Biology at Nottingham. His first job was for MAFF in the Fisheries laboratory at Lowestoft doing research in plankton but he decided this wasn't for him. In 1974 Jack started work at Shipstones Brewery in Nottingham as pupil brewer. His Pupilage took more than four years covering Cooperage; Cellar Management; Bottling; Scientific Control; and Plant Running and Maintenance. He took his exams in London, resulting in a Diploma from the Institute of Brewing in 1980, this certificate now proudly hangs on his office wall.

Jack soon settled into his work and he and his family were enjoying living in Wem. At this stage the brewery was undergoing massive investment in new plant and machinery. "By 1986 the brewery had built a new boiler house, cask wash facilities, fermenting rooms, and a kegging plant with top of the range equipment. The future of the brewery looked very bright with a large amount of additional trade in the West Midlands following the acquisition of Simkiss Brewery and the merger with Davenports Brewery. So you can imagine how devastated we all were to hear the first rumours in 1987 that the brewery was in danger of closing."

The fortunes of the major shareholders, Greenalls, were changing and they were looking to centralise beer production and close their smaller breweries. This came as a big shock to all the employees and the residents of the town, as Jack recalls. "There was a massive petition and the workers and Wem residents were all involved in the Save the Wem Brewery Campaign. T-shirts were printed and a public meeting was called in October with a protest march that brought Wem to a standstill. It was heartbreaking to see such shortsighted decisions being taken. It was very obvious to a lot of us that there was a future for the Brewery and although a few of us tried hard to convince management, the brewery finally closed on 28th February 1988. It was such a sad time. Men were offered early retirement or jobs in Birmingham and slowly the brewery died leaving a big hole in the heart of the town. We were loosing a traditional industry that could be traced back hundreds of years."

Jack could not believe that there was no room for small breweries and he began to put together an idea he had been nurturing. "I was offered two jobs, which I turned down, Wem was my home and I didn't want to move away. Also, I had been nurturing during the last year the idea that it was possible to somehow continue the brewing tradition in Wem and I felt passionately that the recipes for Wem Ales, which were made with quality ingredients needed to be preserved and brewed in Wem. But I couldn't do it on my own. Then just by sheer chance I met a man called Peter Simmonds who, although I didn't know it at the time, turned out to be the saviour for the continued future of brewing in Wem."

Peter Simmonds was equally delighted to meet Jack, he had been very saddened at the closure of the brewery and when he heard that Jack had stayed and that he would like to continue brewing he offered his professional business skills gained in industry and banking to look for a way forward. This became the start of a very dear friendship and a successful business partnership. Peter and Jack tried to negotiate keeping a part of the old brewery, but because of various contractual reasons this never materialised.
"We spent months looking at options for setting up the brewery in the town, but in the end we took a unit out on the Wem Industrial Park. The building was an old army type of hut, which very soon became too small. In 1989 we acquired premises once used as the Laura Ashley wallpaper factory in Carno Powys. We had to dismantle the building, then transport it to Wem, then reassemble it on another plot of land on the Industrial Park, in the same place we are today, quite a job I can tell you!"

Hanby Ales produced Championship beers from Jack's own finely blended recipes. His beers won prestigious awards and in over 300 pubs nationwide you could order fine draught ales with names like, Wem Special, Drawwell Bitter and along with many others, Old Wemian Ale. Then came those most prestigious awards of all, Britain's Champion Beer 2005 and the illustrious 'Gold Medal' for 'Hanby Nutcracker'. How wonderful to see that Hanby Ales continuing with Wem's industrial heritage and keeping Wem firmly on the map. How wonderful for Wem that the Brewer decided to stay!

Based on an interview by Linda Etherington for 'The Wemian- April 2005'