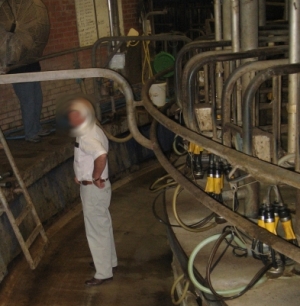 Milking parlour

Cheese making has long been a tradition of farmers in and around Wem. In the days when storage and transport of fresh milk was difficult, it was relatively simple to turn it into a more storeable product. It is currently estimated that a large proportion of 'Cheshire' cheese is currently made in North Shropshire.

In 1890, Whitchurch had a cheese fair on the 4th Wednesday of every month (excepting December) and Shrewsbury on the 2nd Wednesday of every month. Oswestry held the Powis market', with its cheese and butter sales on the first Wednesday of each month. Local industry also benefitted. WH Smith, Ironfounders of Whitchurch, advertised:
..improved cheese making apparatus or vats, cheese presses & dairy appliances of all kinds
Today, cheese making is concentrated at 2 locations. Belton Cheeses at Whitchurch product a wide variety of types- including Caerphilly!. Applebys at Hawkstone concentrate on Cheshire cheese, and are the most famous of the makers using traditional methods including hand-binding with cloth.

The Appleby family have been making cheese for several generations. Hawkstone Abbey farm provides the unpastueurised milk used in the cheese-making. Rennet is added to the milk and it is put into moulds and presses used hand-presses. It is then bound in calico cloth and moved to the maturing rooms. It gathers strength and can be eaten mild after 8 weeks or mature after 18 weeks.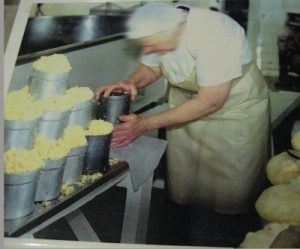 Filling the moulds