Brewing in Wem
Drawwell House in the 1980s
Photo - Brewery History Society

Wem has long been a brewing town, with the combination of pure water and local malting facilities (and a ready market!) leading to a large number of breweries and pubs. Prior to the late 19th century, alehouses brewing their own beer were common. However, by 1890, only two appear to have remained – the 'Talbot Vaults' at junction of Aston Street and the High Street, and the newly established Drawwell Brewery.The latter had been run through much of the century from a base in Noble Street The latter was based in the Drawwell House that, in 2012, was a listed building whose features included:

A two-storey 18th century bay-windowed house, with early 19th century windows. Plain tile roof with stone coping to gable ends with shaped kneelers and brick eaves cornice. The bay windows have sashes with glazing bars and slightly arched openings. Brick ridge chimney stacks.
BREWING METHOD
There was a Drawwell brewery listed in 1851 and run by Joseph Cooke, but this one was established in 1892 by Charles Henry Kynaston. It was based on the gravity model of brewing. This involved hauling the sacks of malted barley to the top of the tower and having each level of brewing on a different floor i.e.

The malted barley is raised to the top of the tower and ground down to form a 'grist' (as in 'grist to the mill')
Liquor was pumped to the top of the tower and allowed to run into the 'Mash Tun' that contained the grist. This was soaked for 3-4 hours to create a sludge- a process known as 'mashing' or 'sparging'
The liquid is then run off and boiled with hops (or hop pellets) for 2-3 hours. The liquid is then drained off.
The liquid is cooled in shallow tanks and yeast added. This is left for up to 3 days.
It is then 'racked' to remove the excess yeast with the aid of 'finings' before being barrelled
A SUCCESSFUL HISTORY
In 1895, Kynaston sold out to William Hall who already owned the Talbot brewery, for £253,000, which included 63 pubs. Hall combined Drawwell with his Shrewsbury-based Talbot brewery to create Shrewsbury and Wem Breweries. He also owned the Circus Brewery in Shrewsbury which was closed in 1912 and all production was concentrated in Wem, which was enlarged.It was registered as 'the Shropshire Brewing Company'. The Talbot brewery closed in 1900
Henry Kynaston continued to be connected with the business, and died at his home, Oaklands at Tilley aged 73 in 1921. In February 1923, William Hall retired. He died in 1956
One long serving employee, Norman Creyke, joined the company in 1911 from Emsworth Brewery in Hampshire as a manager. He rose to become S&W chairman from 1934 to 1959, when he retired. During that time, he also became chairman of the Shropshire Wholesale Brewers Association. He died in 1960 aged 84.
The Kynaston family retained their interest, with Charles Henry Kynaston being a director until his death in 1943. The Kynastons also owned and operated the malt house in Station Road, now converted into houses.
The brewery had a long reputation of brewing excellence. At the 1924 Brewing Exhibition, it gained a 1st and two 2nd class awards.

In 1827 Champion Gold Medal for its 1039+ beer
The BJ Challenge Cup
A Best Cask beer award for its 1054
A Championship gold for its Over 1039SG
THE FINANCIAL REALITIES OF A SMALL BREWERY
Company logo from a letter

Profits

1954
~
£105423
Net £6504
1957
~
Net £7573
1958
~
£16564
Net £5080
1959
~
Net £6801
| | |
| --- | --- |
| | As a small brewery, S&W were always in the need of extra capital. Marstons Brewery acquired some preference shares which, in 1951, they sold to Greenall Whitley of Warrington. This deal included 200 licenced houses, stretching from Newtown in Wales across to Wolverhampton in the east. In 1963, Greenalls bought the remaining shares and continued to brew in Wem and to make profits.However, their surplus capacity in Warrington led them to consider closing outlying breweries. Despite the profitability of the Wem plant, it was closed in 1987. 39 workers and draymen lost their jobs. The following year, the site was sold to a local building firm for redevelopment. In 2013, it is an industrial park which has retained the external appearance of the brewery. The only significant thing missing is the trademark Malt Shovel which, adorned the top of the tower and which has since fallen down. The site was sold for redevelopment which has created a number of new businesses and offices as illustrated in the 2013 photos shown below: |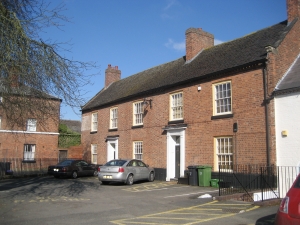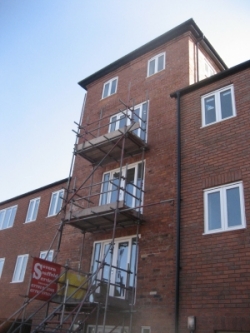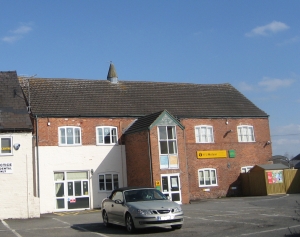 Left to right: Drawwell House, Brewery Tower, Brewery buildings with damaged malt shovel symbol. Photos taken in 2013.
Advertisements for Shrewsbury & Wem Ales

Acknowledgements

Thanks are due to Mike Brown of the Brewing History Society for the illustrations and much of the information in this article. Those interested in the work of the society, see their website
Go to Home for more historical topics