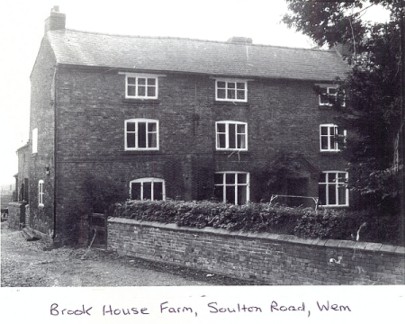 Tom was a war time baby, who came two months prematurely and weighed only 4½lb. For the first 12 years of his life he lived in Station Road. His father worked on the family farm, Brook House Farm out on the Soulton Road, which had been in the family since Lady Day 1913. [See left for image of Brook House Farm. Picture with kind permission of Tom Edwards. Note the line showing the later extension of the house, the bottom window is lower than the other windows at this level (LHS). This area included the dairy.] The family were known locally as 'Edwards the Brook'. "My father Edward John took over the farm in July 1952 and along with my mother Hilda Violet (neé Chesters) and my brother John we all moved into the farmhouse."

Tom remembers the old farmhouse with affection. "Moving from the town into a three-storey farmhouse was very exciting as there were attics, a cellar and two separate staircases to explore. We had no electricity and used Tilley oil lamps. Later the late Ivor Jones did wire up the farm for electricity and we had our own generating plant."

The farm supplied milk locally. "Our farm was attested in 1942 and TT attested in 1948. We supplied milk to Wem Junior School and Wem Grammar School and the Secondary Modern. In 1948 instead of churns being taken to schools we began to use the third of a pint bottles.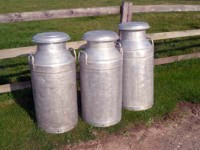 We continued to supply the central school kitchen, under the supervision of the late Mrs EMV Fothergill, with churns of milk. These churns bore our own name." Tom remembers being kept very busy after school. " I helped in the dairy washing bottles, we had a lovely lady helping who I named Naomi from a character in an Enid Blyton story". Tom told me about the milk vending machine in Aston Street. "This was situated in front of DC Nairns confectioners shop which is now the take away. The machine issued half pint cartons of milk, we also made flavoured milk drinks, lime and strawberry, which were very popular with the children."
Tom had some happy memories of living on the farm. He remembers some very important visitors having tea there in 1961. "The radio show 'Have a Go' hosted by Wilfred Pickles came to Wem Town Hall. Before recording the show Wilfred Pickles, his wife Mabel, the pianist Harry Hudson and producer Stephen Williams all came to us for tea. I was able to obtain their autographs and remember going with my family to watch the show." Wem was a very friendly place to live and Tom remembers clearly all the shops and businesses from his childhood. "Some of the businesses in the town I remember are: Reggie Llowarch, Grocer, of Aston Street who would come to the farm with his van. This vehicle had a tap on the side so you could also buy paraffin.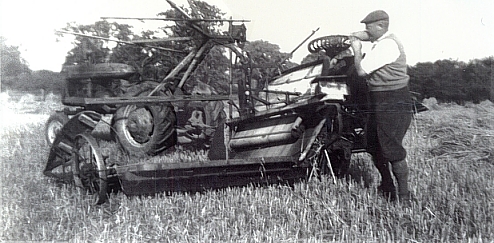 On a Friday my father would fetch groceries from G H Morgan & Sons Ltd. [See left for image of Jack Edwards. Picture with kind permission of his son, Tom Edwards.] Mr Bill Haines was the Chemist on the one side of the shop and the Manager was Mr Fred Wilkinson and then Mr George Furber. Mr Haines later said that the shop had a reputation just after World War One of never turning away anyone wanting treacle or syrup - a staple form of diet - and one satisfied customer said of Mr Morgan that "He must have a treacle mine at the back of the shop". Mr Haines was convinced that that gave rise to Wem being known as the Treacle Mines. The Wool Shop in Chapel Street was a hive of industry. That was run by Mrs Dol Gregory and Mrs Wilf Birch. Miss Hope's knitwear shop was at 69 High Street. Mrs Mary Dorricott worked at Miss Hope's for many years. She later had her own stationery, toys and gifts shop at 6A High Street. That was quite an Aladdin's Cave. Mary was always seen pushing her bicycle rather than riding it - the handlebars were always laden. We went to Bob & George Evans Butchers Shop at 66 High Street and bought fruit and veg from Jack Sands. (The Sands Family had a garden where the Council Offices are now situated.) Edges were the bakers and the tailor was Mr Jack Pye, then later Mr Denis Aston. Mr Bert Rogers carried out repairs to the car and tractors. Bert was always dressed immaculately with collar and tie and brown overalls. The role of "Father Christmas" was often played by Bert at Christmas time. Shoes were supplied by Mr Horace Reader. He was always most obliging. If he had not got what you wanted in stock, Mr Reader would get it for you. Mrs Mary Houseman had a café at 40 High Street. When I was small I used to help her eldest daughter, Anne, clean the silver on Wednesday afternoons.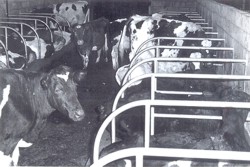 Brook House Farm had the latest milking equipment. "We were one of the first in Shropshire to have cow cubicles and I remember many visitors coming to look at our dairy, one visitor was Lord Bridgeman. However, in November 1967 we were hit with 'foot and mouth'. I remember that dreadful day very well. My dad spotted the sick cow and went to phone the Ministry of Agriculture.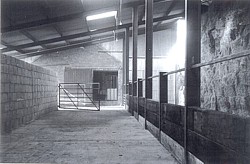 I milked the cows that day for the last time. A Scottish vet, Mr Gilmore came to see us, then the valuer for Hall Wateridge & Owen, Mr. Dick Mullock. It was a very sad time. We could no longer deliver or sell milk, the Aston Street vending machine was taken on by Mr. John Wolliscroft of Wem and District Dairy. We did restock in July 1968 but farming was beginning to change. [Pictures by kind permission of Tom Edwards.] As people like Tom Jones the Thresher retired, bigger firms took on the combining. My dad retired in 1969 and I went to work for a milking machine manufacturer, Fullwood & Bland, at Ellesmere."
Tom tells of how his interest in local history began to grow. "I have always had an interest in local history. My late grandfather, Tom Chesters, had a copy of 'Merchant's History of Wem' printed in 1907. After my grandfather's death the book was handed down to me. I purchased a copy of Iris Woodward's history of the town in December 1956 and in 1976 I bought a copy of Garbet's history printed in 1818. In 1959 Dr. Keeling Roberts lent me some books about Shropshire churches. I also had a book loaned to me of old Cheshire churches. These made me think, as some churches were included and some not. I therefore decided that one day I would compile a complete photographic record of all the parish churches of Shropshire. This I duly did and then proceeded to photograph the Non Conformist chapels (past and present) in the county. Since 1987 I have arranged a number of exhibitions in The Methodist United Reformed Church in Aston Street. These have been on various themes, including the History of Wem, The Royal Family from 1861, the Hills of Hawkstone, old newspapers etc. I have over 200 books of newspaper cuttings."
Tom joined the Red Cross in Shrewsbury in 1971. It was there he met his wife to be Pat Whyle. Tom and Pat married in 1976. If you ever see it advertised that Tom is staging one of his exhibitions then I recommend you go along and see it. Tom will often be seen with his camera taking photos of any changes in and around Wem. Tom's local knowledge has proved invaluable to many people wanting to find information when researching family trees or projects. In recent years Tom has met with celebrities visiting the town.
"When Ken Dodd visited the Town Hall 2nd June 2000 I helped carry his shirts and jackets into the dressing room and I had quite a chat with him before he went 'into character' . He was very pleasant to talk to. I also met Fred Dibnah when he came to Wem Town Hall on the 1st June 2001. The morning after the show I drove Fred around Wem to see the old mill and other buildings. He, too. was most interesting to talk to."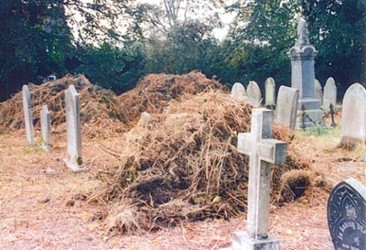 In 2012, Tom received the honour of becoming a Townsman of Wem in recognition of his study and photographic collection of the history of the Town and for his dedication to rejuvenating the cemetery in Whitchurch Road. For a number of years Tom has placed sweet peas on the Eckford family graves in the overgrown cemetery in Whitchurch Road.
In July 2002 he decided to do something about clearing the overgrowth. "On July 28th I began to clear the brambles, weeds and trees to the left of the cemetery chapel. Many of the gravestones were buried and invisible from the road. By March I had cleared the top of the cemetery which enabled people to put flowers on graves for the first time in many years. I am still tidying and will continue to do so for some time yet."
Tom is no stranger to this kind of challenge, back in the early sixties Tom had done a similar task, at the Wem Parish Church and Edstaaston vicarage when his father became a Churchwarden.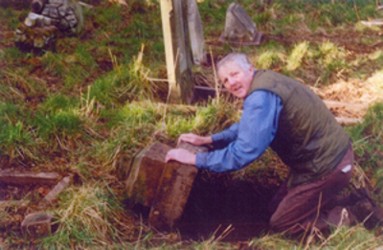 "In 1962 the Edstaston Vicarage and grounds had to be got ready for occupation by Prebendary Basil Morson who was going to be the new Rector of Wem. This was before the present Wem rectory was built. Without knowing the state of the place my father sent my Uncle Stanley and me to tidy the grounds. We could hardly get through the gate it was like a jungle, my father was shocked to see by lunch time how little we had done. It took six weeks to make that garden any thing like and we only just managed to be ready for the new Rector."
[Pictures of Whitchurch Road Cemetary by kind permission of Tom Edwards. The lower one shows Tom Edwards.]
Tom was then volunteered, again along with his brother, to cut the grass and keep the St Peter's churchyard tidy. "From 1962 to 1969 I voluntarily kept the church grounds tidy but had to give up when I moved away from Wem in 1969 for a short time."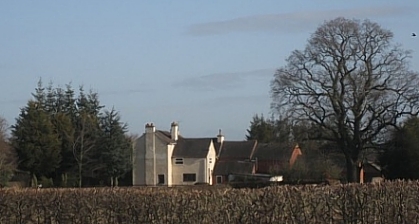 Tom felt very proud to be appointed 'Honorary Townsman of Wem'. "It was a privilege to be presented with my Townsman certificate by the Rector, the Rev. Christopher Cooke and the Mayor, Councillor Mrs Pam Highmore, at the reception following the Civic Service on the 12th October."
RHS: Picture of Brook House Farm, 2013.
We are grateful to Tom Edwards and 'The Wemian' for allowing us to reproduce this article.
Go to Home for more historical topics