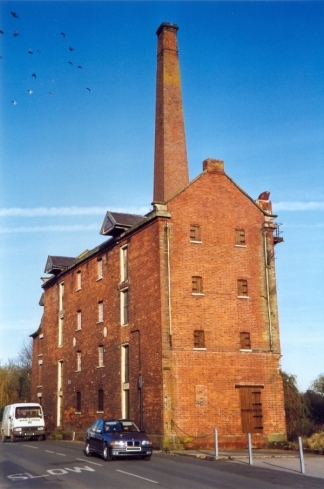 The Mill in the early 21st Century.
The car is passing over the site of the old mill race.
The River Roden in Wem has long been the site of a mill, largely used for grinding corn.
From 1830 to 1845 there was a mill dam with the mill pond occupying all the area between the
south side of the mill and the footpath in front of Roden House.
There was a weir upstream of the mill pond to control flow.
The mill was enlarged in 1819 and the chimney was added.
The owner, Mr John Boughy converted the old water powered
mill to steam by installing a steam engine.
Coal was probably brought by horse and cart from Edstaston Wharf on the
Prees canal until the railway opened in the late 1850s. By 1901,
this had been converted to gas, produced from coke.
In 1945, a new bridge was built to the south of the mill and the mill pond was drained.
The mill continued grinding animal feeds until the late 20th century, when the owners
decided to close it. After many years as a derelict site, it was purchased and converted
into flats, with an additional, modern block on the area below the mill that was once covered with water.