The Telford Bridge at Wem
The river bridge at Wem, built in 1808, is believed to have been designed by Thomas Telford who was, at one time, county surveyor. The plans, signed by Telford in 1800, called for a 24' span and 6' rise from the river to the centre of the single arch. The bridge is Grade 2 listed and is described in the listing as 'Ashlar with rusticated segmental arch with keystone. String course and parapet with plain coping.' There are 18 bricks either side of the keystone to make up the arch.
A 1901 photograph of the bridge looking towards the town, with the church tower in the background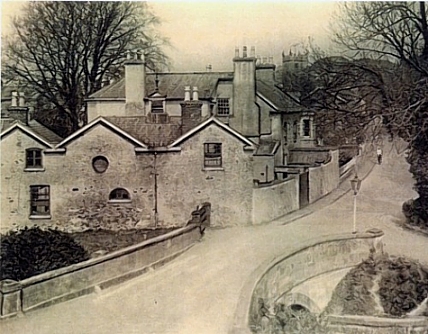 .
A similar view of the bridge in 2013.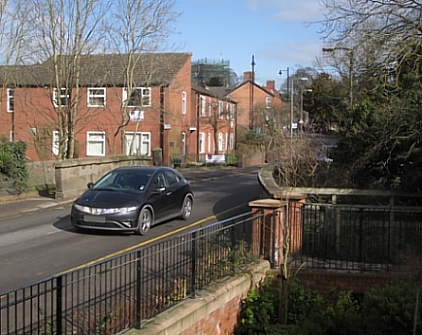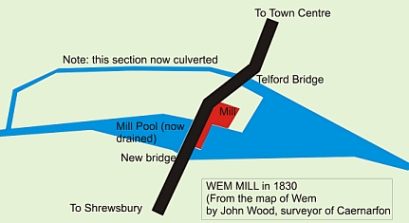 When the bridge to the south of the mill was constructed, the river on the west side of the Telford bridge was culverted.
A 1905 photograph of the river before culverting. The mill is on the left.
On the eastern side, water is visible and rejoins the main river below the mill.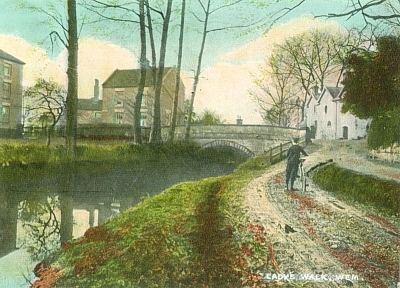 Two modern views of the bridge (2013).
The picture below was taken in March 2013 after a period of 'light' rain!
The bridge is still sound after 200 years and carries far heavier traffic than was ever envisaged by its designer.