GARDEN ORCHARDS & WOODLAND GARDENING - an introduction

There are three main features to this type of gardening: (1) it is biologically sustainable, (2) it has low maintenance and (3) the produce is varied - fibres, fruit, fuel, leaves (edible - vegetables, herbs), nuts, spices etc.
Orchard and woodland gardening (sometimes called forest gardening) uses 3 layers of vegetation: tree, shrub and herbaceous. If left to nature, much land in Britain would become woodland. It would move through 3 stages to reach this balanced state: herbaceous, shrub and then tree. Shrubs grow among the small annual and perennial plants eventually cutting off sunlight to them and replacing most of them. Then it is the shrubs' turn to be replaced by trees. All 3 layers can be retained by siting the different types of plants (island beds, winding beds) with trees at the centre, and shrubs and herbaceous plants (vegetables) at the edges. This type of garden is easier to maintain because it is the natural state of the land. The gardener is not fighting nature but working with it. It is also a very productive system of gardening.
The different layers of vegetation allow maximum access to sunlight.
| | |
| --- | --- |
| This layering of the garden is essential in temperature areas because unlike tropics there is insufficient sunlight to reach the smaller plants unless shade is controlled. Within an orchard garden, the tree layer will include fruit (such as apple, elderberry, pear, plum, quince) and nut trees. The shrub layer will be composed of mainly soft fruit (blackcurrants, gooseberry, redcurrants). Cane and trellis fruit (loganberries, raspberries) can be used in boundary areas while brambles and grapes can be allowed to grow though shrubs. | |
| | | |
| --- | --- | --- |
| Sorrel | Annual vegetables, particularly root vegetables, do not form part of an orchard garden. The harvesting of these vegetables damages the shallow root systems of shrubs. Most gardeners will have a separate area with raised beds for these vegetables. Some perennial vegetables such as sorrel or self-seeders like orach work very well in this system. | Orach |
Other plants can be included: (1) deep-rooted perennials that bring up minerals from lower soil layers making them available to other plants, (2) plants which attract predators to control insect pests and (3) decoy bushes that distract birds from food plants. The productivity of garden orchards is very high. Labour input is low once the garden orchard is established. Established garden orchards are 'no-dig' areas. Maintenance required is little but often. An intensive weekend of gardening every 2 months is not a suitable programme. A better approach is a short but relatively frequent wander around the garden keeping an eye out for disease or damage and taking remedial action. These gardens are havens for wildlife so many pests will be kept under control by predators. Some netting of fruit shrubs may be necessary near harvest time though the use of decoy bushes, such as barberry, can provide reasonable distraction.

The pioneering work on forest gardens in the UK was carried out by Robert Hart in Much Wenlock, Shropshire.
Two gardens in Wem are being adapted to the garden orchard system. The layouts of two area appears below, further accounts will be following shortly.
Key:

Grapevine (Boskop Glory, not a common grape in England and Wales, can be seen at RHS,Wisley): Planted, 2008, For further information on grapes.
Japonica (Chaenomeles) aka Japanese Quince, Flowering Quince or the False Quince: Planted 2006, 3 varieties, flowering in progression, March, April and May, For further information on Japonica (false quince).
Hildaberry: Planted 2010, trained along the fence. For further information on Hildaberries see hybrid section of Blackberries page.
Gooseberry (Standard, Invita and Rokula): Planted 2010, not as productive as the bush variety but easier to harvest and prune and, reportedly less prone to mildew. Form allows planting of bushes nearby. For further information on Gooseberries.
Jostaberries (Bushes): Planted 2010, For further information on Jostaberries (Gooseberries).
Gooseberry (Bush): Planted 2010, For further information on Gooseberries
Flowering Bushes
Comfrey will be planted at the back of this area. This will be harvested about twice a year and used as mulch/fertiliser around the fruit bushes. The theory that comfrey acts as a barrier to ground elder will also be tested since the plant does spread through this area from this side. Asparagus crowns have also been planted since perennial vegetables work well in this type of garden. Rabbits caused initial (hopefully) problems since they decided that this area was an ideal spot to start a warren. Keeping the soil very moist and moving planters into vulnerable areas seems to have worked.

The site is about 45' by 16'. The area receives sun most of the day and though relatively sheltered, wind damage can occur. The soil is sandy. The area was once a flowerbed. Compost and mulch (newspapers, thickness of around 15 sheets, plus mineralised straw) were laid over the area about 3 months before the bushes were planted in late autumn.
Layout 2

Unlike the other layout, most of the ground is down to grass with some red and white clover. This is likely to change. Discussions are talking place with a Shropshire-based agronomist to introduce more interesting species.
The Sorrel and Welsh Onions provide useful perennial crops that do not impact on the fruit bushes.Fruit bushes have very shallow roots so care must be taken when planting vegetables nearby. Perennial plants, cropping leaf or seed, are usually recommended.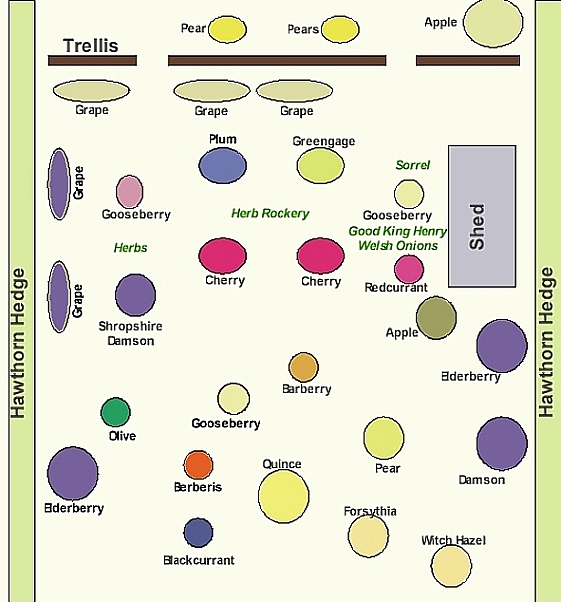 Apples: Howgate Wonder(at corner of shed), a half standard, planted in container, 2009. Grenadier, probably planted in the 1970s, near trellis.
For further information on Apples
Barberry, Berberis darwinii, plus another as yet unidentified berberis and used as decoy bushes.
Blackcurrant bush:
For further information on Blackcurrants.
Cherries planted 2007:
For further information on Cherries.
Damson: Shropshire Damson planted 2007, other damson in hedgerow probably 20+ years old.
For further information on Damsons
Elderberry in hedgerow, probably self-seeded or cane around 1995.
For further information on Elderberries.
Gooseberry Standards near shed and hedge: Planted 2007-2008, not as productive as the bush variety but easier to harvest and prune. Reportedly less prone to mildew but not borne out by experience. Bush in island bed, transplanted from a gnarled maze of bushes discovered in a shady hedgerow.
For further information on Gooseberries
Grapevines Planted 2008 - Pinot Noir, Queen of Esther, Theresa. The two vines along the hedge, Triomphe and Leon Millot are growing through it.
For further information on Grapes
Greengage and Plum, both planted 2007.
For further information on Plums.
Olive - planted 2007. It came form Wroxeter Roman Vineyard where a grove has being established in a suitable part of the vineyard. A crop is expected from the Wroxeter olives. This tree is for amusement.
Pear - those on the trellis are family trees, planted 2008. The pear near the island bed is a pyramid form.
For further information on Pears.
Quince, planted 2008.
For further information on Quinces.
Red Currant Standard, planted 2008.
For further information on Red Currants.
White Currantplanted 2008.
For further information on White Currants.
| | | | | |
| --- | --- | --- | --- | --- |
| WEM LOCAL | WEM LOCAL | WEM LOCAL | WEM LOCAL | WEM LOCAL |