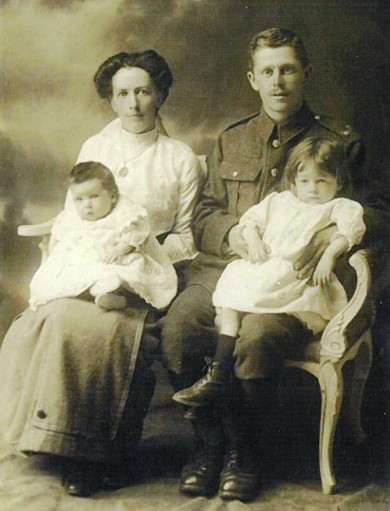 Owen Edward Whitney, a corporal in the Machine Gun Corps*, formerly of the KSLI, was born in Moreton Corbet in 1891. He was the son of Thomas (a rabbit catcher) & Elizabeth Whitney. In 1911, Thomas Whitney was a keeper and rabbit catcher. He was living in Rose Cottage, Aston with his wife and Owen who was working as a labourer in a brickyard.

This family portrait shows Owen with his wife Lizzie (ne้ Garnston). They were married in Wem Parish Church, (3 June 1913) and their children Beatrice Charlotte (born 1914) and Thomas George (born 1916) are also shown. In 1915 they were living at The Weir, Wem.

Owen Whitney was placed in the Army Reserve on 10 December 1915, mobilised on 7 April 1916, embarked from Folkestone on 31 July 1916, disembarked at Boulongue on the same day and arrived at Camiers on 1 August 1916.

He was killed on the Western Front, on Thursday 20 September 1917 and is commemorated in the Tyne Cot Cemetery, Zonnerbeke, West Vlaanderen, Belgium.

* The nickname of the Machine Gun Corps was 'The Suicide Club'.