Born in Edinburgh, 1876; son of Adam & Margaret (died 1937 in Aston Park, Wem) Black
1891 Census: living with family in London (St. Johns Paddington), Middlesex.
1916: Resided at Aston Park, Wem, Shropshire.

Christ College, Cambridge, 1895-1898. B.A. 1898.

Married Ethel Maud GOLDNEY (born Devon, 1880), 1903.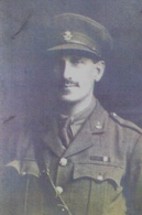 Army: 5th Dragoon Guards; Lieut., 1900; Capt., 1907. Served in Egypt; the South African War, 1900-2.
WWI: wounded in France, Oct. 1914; transferred to the Royal Flying Corps. Gained flying certificate on a Maurice Farman biplane. [This French plane was developed before 1914 and in the early part of the war used for reconnaissance then relegated as a trainer craft. 'Avions Farman' was run by brothers Richard, Henri, and Maurice Farman, who designed and built aircraft and engines, from 1908 - 1936].
Killed in action, 11 Feb. 1917, in Macedonia.

His brother Reginald Adam served in the 3rd KSLI during WWI, was High Sheriff of Salop in 1947 and Deputy Lieutenant of Shropshire, 1951. He died at Prees Hall in Shropshire, 1959.