The Journey from Snuggery to Southampton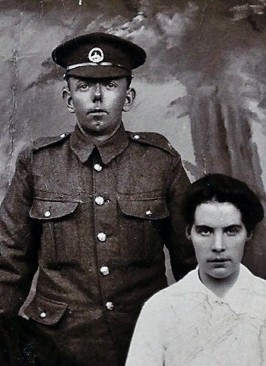 On the night of Wednesday, November 21st 1917 the bugle sounded 'Fall in Salonika Draft'.
We were called together and marched to the Orderly Room of the 3rd SWB (South Wales Borderers).
Officer commanding Draft, called the roll call. Afterwards, we marched to Hightown Station;
took the 11.25am train for Liverpool, arrived at exchange station 12.10am.
Marched through Liverpool as far as Lime Street Station where a long train was waiting for us, for Southampton
which was now about 12.30 midnight). Well we started for Southampton all the lads were happy and full of life,
but by the time we reached Crewe there was not so much noise.
It was a 1 hour's ride, but we had all fell asleep. Half awake, the Sergeant shouted, "All change!"
Everybody got out somehow.
Boots unlaced, half undressed, but lucky, we had only to walk across the platform to another train.
Waited 2 hours here. Then we started out for Southampton. There were eight in a compartment that
would have been good room, only for rifles and equipment and kit bags.
It was 4.30am in the morning when we started, with plenty of bully beef, bread and biscuits.
The journey was very nice all the way to Southampton, viewing the sights of old England and thinking
of the sights we had got to see before we had finished our journey.
About 11.20am we reached Southampton, the platform was crowded with soldiers, about 1,800 besides the SWB.
After a wash, which we had been waiting for a long time, we sat down for some dinner. We had bread, cheese
and ham and after that we "Fell In" and got 5 shillings pay.
Such, we spent the whole of Thursday afternoon and part of the evening viewing the huge docks and ships,
the time went very quick. At about 7 o'clock in the evening we got ready and marched across the Docks to where
HMS ship 'Starguinte' (Aquitania?) was anchored, waiting for us to get on board.
Southampton to Le Harve by Ship.
We got on board straight away. First, we had to put our packs down in the bottom decks,
then there was a rush for the life belts which were given out on the next deck.
And then we searched for a comfortable place to sit down for a sleep. She blew off at 8 o'clock that same evening.
No one knew, only the officer where we would anchor the following morning.
Packed liked sardines the sea was fairly calm and the moon shining bright on the water.
All I remember after leaving dock, was someone shouting out! Held up in the excitement,
most of us got up out of our cosy places and found the ship was standing still in mid ocean and
she was there 2 hours which made the journey longer than it should have been.
On the following morning we had breakfast before going ashore. Had landed safely at Le Harve.
Then the order came all ashore! We had to pull ourselves together,
this was about 8 o'clock Friday morning, 23rd November.
All led in by different Unit's before leaving the docks, we numbered close to 1,800 officers and men and
that finished the voyage to France.
Le Harve to Marseille.
Next came the march to the English North Rest Camp. With full pack which weighed about 70lbs
when it started and seemed a ton when we finished tired and hungry.
We managed to buy some apples off the French girls on the way, through all this we marched 5 miles, "we stuck it good, old SWB", we said.
Well after finding the Camp they sorted the cooks out to set us some dinner.
While they were doing that we had some biscuit and bully and cheese,
this was still Friday 23rd November. The food was so bad.
After the first day we had a few parades just to keep us fit I suppose, and a few miles walk every day around Le Harve.
But nothing to worry on these marches, so it made it more interesting for us and those that had not been to France before.
We were in canvas tents all the time. When night came, we lit the candles, some playing cards, others talking, arguing about the War finishing,
and what hopes we had. From Friday 23rd November till Thursday 29th November we were camped just outside of Le Harve and did not do so bad, considering.
We left the English Rest Camp at 4.30 on the 29th and arrived at Le Harve Station about 6 o'clock, after a long march through the town.
We waited at the station for about an hour while the train was being loaded with Rations. While that was going on, we had time to buy some bread,
half a French loaf also bought, and had a supper after boarding the train.
Now we had two days and nights travelling across France before reaching (W/Horsts?) which was about 8-900 miles
and God help the passengers who travelled through France if all the train drivers were like, what took us across.
Can give no details as regards the drivers and what we said of them or I shall want about eight more books.
Well after bumbling and lumbling about we reached Marseille about 6.40am Sunday morning of the 2nd December.
Again hungry and tired with the journey across France. We marched about two miles then found another Rest Camp at Marseille.
Then about 7 o'clock Sunday morning after breakfast, I had a look round for the baths which I found alright and felt a lot better.
We camped at Marseille and the call came for all to get ready to move off. Then we knew there was no more Rest Camp until the journey was finished.
Well we left Marseille Rest Camp at 9am Monday morning December 3rd, it was a cold morning and strong wind. Then we marched off to Marseille Docks
which was about a mile and a half from Camp. Waited a little while on the docks and bought apples off the French girls to eat while waiting.
This completed the journey on land across France, from Le Harve which is in the North, to Marseille in the South.

The voyage across the Mediterranean and Aegean Sea's Marseille to Salonika, Greece.
We went aboard a captured Austrian liner Hoeber, named under the British Flag HMS Huntspill, it was a tremendous big ship,
but did not seem big enough to give accommodation to 8,000 men. The SWB were the last to take the boat and down to the lower deck we had to go.
There were at least 500 men on the lower deck but owing to the real number of men, we had to put up with anything the best we could.
The vessel did not sail until the 4th December. She blew off at 1 o'clock Tuesday afternoon,
all were excited and longing to see the great monster set sail, so we made ourselves comfortable on the top ships (wash?) with everyone else.
Well (?) knots out into the open sea, we were anchored there until Thursday 6th December by this time, we were all tired of waiting.
Well when all was quiet, about 11 o'clock Thursday night, she pulled her anchor from the water. This woke every man from his sleep for it shook the ship!
On the voyage lots slept on top deck in the open, I did myself, a lot. There would be very little chance of getting saved being in the bottom deck if it had been hit.
Well Friday morning we got up and dressed and had breakfast. Then we were anxious to go on top deck,
which we did and to our surprise we were accompanied with eight huge Torpedo Destroyers. Then we felt safer.
By 10 o'clock Friday morning there was nothing to see, only the eight ships and water.
We were contented, sleeping well every night. The voyage was a peaceful one until the 8th December when our vessel rammed into another great ship.
This happened about 8 o'clock in the morning, I shall never forget it. It was dark, I could hear the lads shouting and running, crying (she is hit!)
It was a terrible bump everybody running for the top deck in readiness for the lifeboats with our life belts on.
When some of the ship's crew shouted that "all is well" and she is sailing again. But we all thought we were torpedoed.
On Sunday morning (9th December) there was a shout, for we all could see land, but it was only a small island. 8 hours later we passed Malta (Rocks/Docks?)
a fine sight, then after some time we reached Malta Harbour. She pulled her anchor from St. Paul's Bay at 2pm Thursday 13th December.
We left St Paul's Bay sailing for 2 days over very rough seas, what is termed as the (Danger Zone).
Escorted by our Destroyers, Light Cruisers and eight other big war ships.
This part of the sea was very rough and the ship as big as she was, rolled and tossed about.
It was not fit to be on the bottom deck and on the top deck lots were sick.
By Saturday 15th December it did get better and we landed at (Mayers Bay?).
We sailed from (Mayer's Bay?) on Tuesday 16th December. Then, the weather was very rough again, the roughest night of the whole voyage.
The waves washing the upper deck and the wind too strong to stand on the open deck.
We went past some tremendous rocks again and then back on the open sea for another 22 hours reaching Salonika Harbour on Thursday 18th December.
A very fine Harbour but we had to stay on board from the 19th to the 20th when we were unloaded to another ship
called the RFA Water- Witch and then took to shore. And all were glad to set foot on land once again.
For it was a terrible voyage. Well we got our packs on and started to march through Salonika where we could see where the Great Fire had been.
Then we marched up onto the high hills about 6 miles from the city. We were isolated there in tents for measles over Christmas,
but had a good one, with oranges and nuts, (?), Oxo and plum puddings.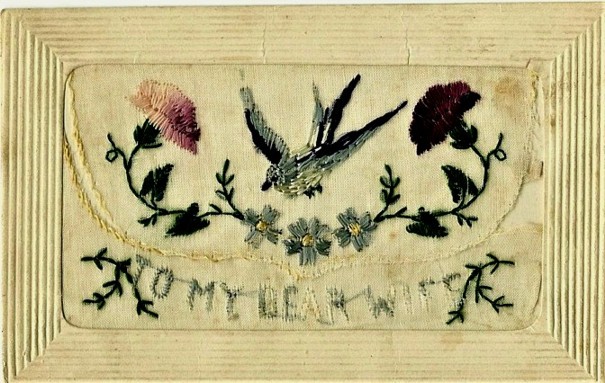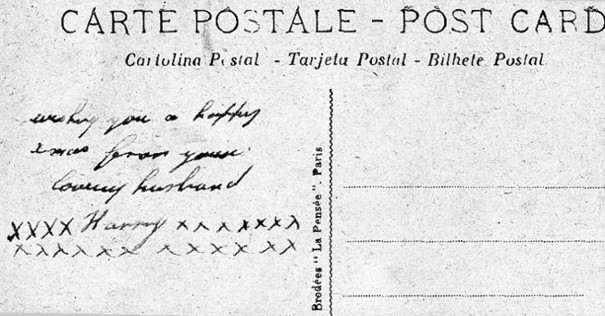 1918
Then on the 4th January 1918 a terrible blizzard came over the camp blew all the tents over,
Canteen and everything. We had terrible wind and snow.
Soon after we moved to another isolated Camp, not far away up to the Junes/Janes. We had a fine time, plenty to eat and drink and not much to do.
Had a good time up to the present. Then sent down to no. 2 Base Depot and there for a few days.
Then went across to the Training Camp on 10th February.
Back to no. 2 Base Depot on the 18th February.
Left no. 2 Base Depot on the 6th March to Gagunci/Yugunchi, for the Front. Arriving on 8th March 6.30pm.
Left the trenches on March 17th for a rest at Morm?oon for a month.
On the 24th April we had a little outing about 22 miles (?) seeing the sights of Macedonia.
The journey was done in little trucks on the light railway which we all enjoyed with just a short journey on motor lorries.
We had a good little time at Rest Camp and went to a good concert at night, with a good Canteen and also plenty of money.
Starting back with the ordinary train we changed at (Sarigucia?). On the light railway we were bound for Training Camp again.
The place we went to was (Junes/Janes?). This took 2 days and then back.
In (?) and then to the Trenches. Left the Trenches the 22nd May.
Day to sort out Petrol/Engine?
Returned to the Reserve Battalion.
Left for the trenches on 15th June.
2nd (July/August?) joined the 140 Corps of Royal Engineers at (Junes/Janes?) for driving Oil Engine.
Left there to join the 127 Corps of Royal Engineers.
On the 15th August driving oil Engine again at Pumping Station, at a place called Hallendir/Kilindir?
Pumping water from Mills at Hirsova/Mirova? to a place called (Junes/Janes?) about a mile and a half.

Harry's Diary finishes here, on 15th August 1918.