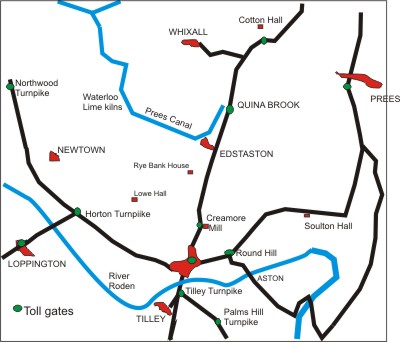 Toll Roads around Wem.
The route through Northwood was part of the Turnpike road from Wem to BronyGarth near Chirk. That through the Soulton Gate was part of the Wem to Sandford Turnpike (now the B5065)
In the late 1700s and early 1800s, Wem's only direct means of travel was by road. Anyone was free to travel on them by the common law of the land and ancient right of passage over the Kings Highways. Tolls could only be charged where specifically granted in ancient charters such for bridge repairs or for paving tax for some Boroughs. Landowners could, however, construct a new road as a private road and levy tolls on other users. As the new road would usually be more convenient the tolls would meet upkeep Each road in and out was controlled by a toll-gate, which generated the revenue to maintain the roads.
One such toll board is shown online for Ironbridge This shows the following charges as:

For every time they pass over this BRIDGE
For every Coach, Laudau, Hearse, Chaise
Chair or such like
Carriages drawn by 6 horses,Mares,
Geldings or mules
2s 0d
Ditto by 4 ditto
1s 6d
Ditto by Two ditto
1s 0d
For every horse, Mule, Ass, pair of oxen,
drawing or harnessed to draw any waggon
cart or such like carriage, for each horse
0s 3d
For every horse, Mule, Ass, pair of oxen,and
not drawing
0s 1/2d
For an Ox, Cow or meat animal
0s 4d
For a Calf, Pig or Sheep or lamb
0s 1/2d
For every foot passenger going over this
bridge
0s 1/2d
Around Wem, there were 6 main gates.
The Round Hill house site on Soulton road at the junction of Church Lane
Creamore Hill
Horton Gate near the Loppington turn on the road to Ellesmere
Mill Street near to the Tilley Road turn.
A toll house near where the Methodist Church in Aston St. now is.
A gate at the foot of Palms Hill

The coach and waggon services

The Creamore gate was especially important as it controlled the route to Edstaston Wharf on the Prees canal, through which much of the agricultural supplies and coal came.
In 1807, a coach service started running from Shrewsbury to Manchester via Whitchurch, and Chester. This led to the development of coaching inns such as the 'Castle', the 'White Horse', the 'White Lion' and 'the Waggoners Arms' where horses could be changed and travellers refreshed. (a) Iris Woodward relates a story of the coach company trying to cut out the Waggoners Arms by stopping at the White Lion. The landlady of the Waggoners sent her sons round to forcibly drag it up the street. In 1828, Pigot (b) lists 'THE HERO' leaving for Chester and Manchester at 8.45a.m., with the Shrewsbury service leaving for Shrewsbury at 6.30pm. Both used the Castle Inn. In 1935, in addition to the Hero, the 'HIBERNIA' called at the 'White Horse' en route to Cheltenham at 12 noon, calling at Shrewsbury, Ironbridge, Bridgnorth, Kidderminster, Worcester and Tewkesbury.

By 1859, a threat was hanging over the service. Slater's Directory noted that ' An Act of Parliament has been obtained for a branch of the London and North Western Railway from Shrewsbury to Crewe which will pass through this town.It was 10 years before the line was actually completed.At that time, the nearest railway was at Baschurch and Slater reported the departure of 'An omnibus from the White Lion Inn to the station every morning at eight. Freight carriage by cart was to Shrewsbury by Joseph Owen and Thomas Harris from their houses in the High St. and by water from Edstaston Wharf daily.No coach services were listed.

a) Iris Woodward and John Dromgool The History of Wem
b) Pigot & Co National Commercial Directory of Shropshire 1828